Fun Thanksgiving Crafts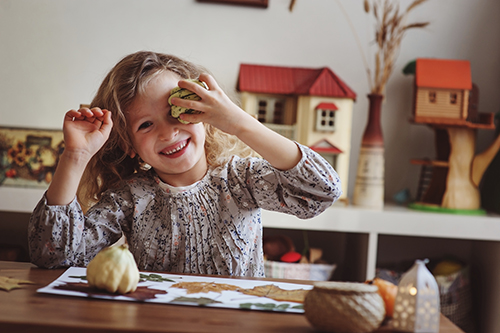 Thanksgiving is just around the corner, and we know many TBE families are getting excited for some much-needed quality time together, celebrating the importance of family and loved ones. The ritual of gathering around a table and giving thanks is a beautiful way to strengthen a family, and it's also a wonderful opportunity for planning some quality time with your children. To help out, here are a few ideas for fun crafting activities you can try this Thanksgiving!
Coffee Cup Mayflower
This activity is a great way to explain the story of the pilgrims to your children, and you'll end up with a fun model of the Mayflower made from household materials. To start, cut off the bottom of a paper cup and poke two small holes in the bottom opposite edges of the circle, then place the cup bottom in a cardboard cup holder (like you'd get with a coffee at Starbucks). Next, cut four paper rectangles – two per sail – and cut two small slits in the center at the top and bottom of each rectangle. Push a coffee stirrer through the slits such that the rectangles are arranged one on top of the other, threaded onto the coffee stirrer – this should give you two "masts" with two "sails" each. Finally, slide the stirrers into the holes in the cup, add a paper flag to the top of the masts, and enjoy!
Dixie Cup Streamers
Here's a great craft that's simple to make and perfect for festively decorating the dining room. First, cut a Dixie cup such that it lies flat, then use it as a guide to cut shapes 7 out of decorative paper. Attach some double sided tape to the ends of the pieces of paper, then wrap each one around a Dixie cup and secure it with the tape. This should give you 7 Dixie cups covered in decorative paper. Now, using some brightly colored paper, cut out letters to spell "welcome" and glue or tape them onto the Dixie cups. Using an exacto knife, have an adult cut an X into the bottom of each Dixie cup, then attach each cup to string lights by pushing the lights through the X's in the cups. Hang it up, and you've got an easy, fun, and handmade decoration for the Thanksgiving dining room!
Contact Your Frisco, TX Private Preschool
We hope these crafting ideas bring some holiday cheer to your home this year, and if you need more ideas for fun activities this holiday season, we're always happy to help. You can call us at 469.287.0332 or reach out to us at our contact page with any questions, or if you'd like to join The Blue Elephant family, we'd love for you to schedule a tour – just give us a call. Until then, we wish you a happy Thanksgiving and hope to hear from you soon!