Private Preschool vs. Daycare
How to Find The Best Learning Center In North Texas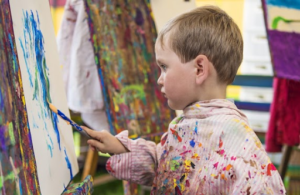 If you're a new parent and just now considering the best types of child care or learning center in the North Texas area, you may be confused between daycare services and a Frisco private preschool such as The Blue Elephant. While many think private preschool and daycare are interchangeable, there are actually many differences between the two. To help you out, we've outlined the primary differences in the chart below!
ELEMENTS
TRADITIONAL DAYCARE
PRIVATE PRESCHOOL –
THE BLUE ELEPHANT
Purpose
To take care of children while their parents are working during the day.
To create a nurturing, loving, learning environment that pushes each of our students to have the best possible learning and social experiences.
Staffing Requirements
Licensed by the state but not required to have a college-educated or certified teacher. Often staffed by nice, but uncredentialed people. Oftentimes take on as many children as the state will allow.
All staff members are required to be college-educated teachers or certified assistants. We hire skillful, kind, and compassionate teachers with bachelor's degrees in early childhood education. We maintain low student-to-teacher ratios to allow for personalized instruction and play.
Philosophy/ Curriculum
Most daycares are play-based, focusing on development of social skills, working in groups and independent care. Some may encourage children's cognitive, social and physical development.
Preschools tend to have a specific educational philosophy and focus their curriculum and activities with a goal for your child in mind. We use a progressive, research-based curriculum that combines stimulating learning with socially-minded fun.

We assess student learning and work to develop academic and social skills.

Our kids learn to be independent, making their own decisions and becoming confident in their abilities. The end result is happy, educated children ready to succeed in kindergarten.

Hours of Operation
Usually open a full 10 to 12-hour day while you work. Normal hours are 6 or 7 a.m. to 5 or 6 p.m. Monday through Friday, year-round.
While traditional preschools have limited hours and days of the week, The Blue Elephant operates Monday through Friday from 6:30 a.m. to 6:30 p.m. year-round to accommodate most working parents.
Children's Ages
Serve a wide range of ages, usually 18 months or younger to toddlers (up to 3 years).
Preschools focus on 3- and 4-year-olds and is really a preparation for kindergarten.
Level of Parental Involvement
You do not usually fundraise for daycares, although they may have social gatherings for families.
The Blue Elephant invites parents to be involved in fundraising and parent-student programs at the school. We also invite parents to call or stop by at any time to check on your child's day.
Facility & Equipment
Daycare location may be a person's home or smaller location with used toys and little technology.
We have large classrooms, specially-selected play activities and toys, and cameras that allow you to watch your child while they learn.
Combining The Best of Traditional Daycare With Preschool
At The Blue Elephant, we've taken the best features from the traditional daycares and added them to our outstanding preschool to create the best private preschool and comprehensive learning center in North Texas. We have an Infant Program, and a Toddler Program as well as a program to prepare your child to enter our Private Preschool. At every stage, we'll be implementing our research-based curriculum at the appropriate age and loving every child that comes through our door! Our after school program and summer programs allow our students to have continuity in care and spend more time having fun with their friends. 
Looking for the Best Private Preschool in Frisco?
Kindergarten teachers throughout the Frisco area love welcoming students from The Blue Elephant because they know that they have the cognitive, social and emotional skills to succeed! Find out more about your Fisco private preschool by contacting us at (469) 287-0332 or downloading and completing our enrollment form. We look forward to showing you around the best learning center in North Texas — right here in Frisco!