Our Infant Program
Early childhood education is the first step to a successful, academic career. At The Blue Elephant, our cozy infant rooms provide a safe, comfortable environment for our little learners to thrive and reach age-appropriate milestones.
"What you teach birth to three will be what matters most to me." – Dr. Pam Schiller
An infant's day at TBE is meaningful. Everything we do at TBE has a purpose, from practicing tummy time to snuggling and singing, our activities are intentional. Through Frog Street Infant curriculum, created by Dr. Pam Schiller, our infants' daily activities support their social/emotional, cognitive, language, and physical development. Monumental milestones are achieved and celebrated in our infant classrooms.
"Play is the highest form of research." – Albert Einstein
Many components make up a successful classroom environment. Our infant rooms are clean, safe, and allow for comfortable floor play. Infant rooms are disinfected daily and visitors are asked to wear disposable shoe covers, as well as sanitize their hands.
TBE infant rooms sound and smell great too! Both fun and soothing music is played regularly and calming scents such as lavender and baby powder feather the air. Large, cushioned mats allow our infants to stretch their growing muscles, practice tummy time, and even take those first steps. As a TBE bonus, parents can see the infant environment in action through our monitoring cameras and viewing windows.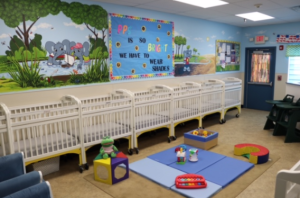 "It takes a big heart to shape little minds." – author unknown
At the core of our infant program is our experienced and loving teachers. Because of their beautiful spirits and big hearts, these talented individuals were specifically chosen to teach our infants. Through personal interactions, such as snuggling, gentle eye contact, and soft voices, amazing relationships are created.
Our teachers also understand the importance of great communication, as well as partnering with parents to ensure milestones are successfully met. Through Tadpoles, our teachers send daily notes, reminders, and photo-worthy moments to parents.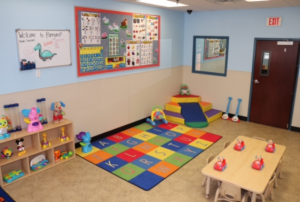 Schedule a Tour of Frisco's Best Early Learning Center
We are so happy to have the opportunity to help our little learners develop and grow, and we can't wait to show you our infant rooms. If you'd like to see more of what makes The Blue Elephant so special, please feel free to contact us to schedule a tour of our Frisco, TX early learning center. You can also apply online to join the TBE family today. We can't wait to hear from you!