The Blue Elephant Curriculum
Early Childhood Learning Center & Private Preschool in Frisco, TX
At The Blue Elephant, we have one mission: help every member of our learning community develop into a mature, well-rounded, and passionate lifelong learner. We believe that learning should be an integral part of everyday life and something that's a joy both in and outside the classroom, and we strive to craft a nurturing learning environment for our students that both provides the support they need while challenging them to learn and grow. One of the core ways we accomplish this is through our proprietary learning curriculum: grounded equally in developmental psychology, a commitment to holistic learning, and a deeply-held belief that learning should be a joyful experience, we've crafted our curriculum to help every child be the best they can be.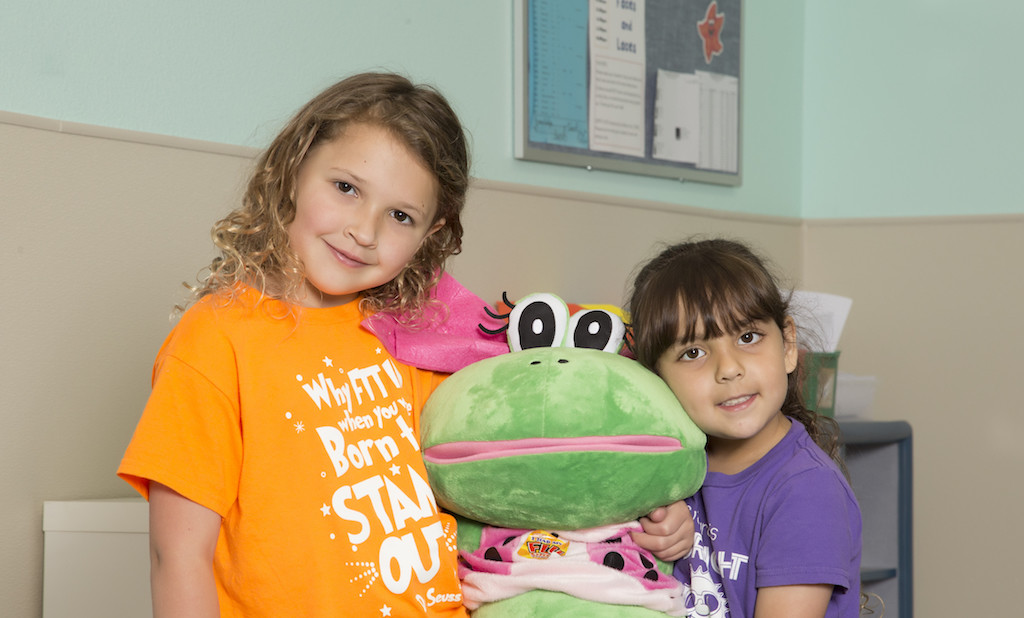 A Comprehensive Approach to Early Childhood Education
The Blue Elephant curriculum was designed to serve students ranging from 6 weeks to 12 years old, providing a progressive learning experience that's customized for every stage of a child's psychological development. Our curriculum is based on two of the most effective childhood learning curriculums in the state of Texas – Frog Street and Handwriting Without Tears – but modified to take the best from each curriculum and create a truly unique, unparalleled learning experience for children.
Our primary objective with our early childhood learning curriculum is to have every lesson, every class, and every day provide meaningful instruction and create progressive growth in a child's development. We don't believe in busywork, which is why we've honed our lesson plans to include only meaningful, intentional activities and exercises that support linguistic, cognitive, social, emotional, and physical development – and make things fun in the process.
Just like life, we believe education is a lifelong journey, which is why our curriculum takes a stepping-stone based approach to learning. The first step in this journey of early childhood education is with our tiniest learners, some just 6 weeks old, who gradually develop social and emotional skill sets through a supportive learning environment all the way through Pre-K. With each new step, your child learns more and more, building a solid foundation for the years of learning to come.
Our curriculum uses a variant of the Frog Street Curriculum, a world-renowned early childhood education course model developed by child learning expert Dr. Pam Schiller. Borrowing from Frog Street, we base our curriculum on four cornerstones:
Early Brain Research
Learning Domains

Conscious Discipline
Intentionality
1. Early Brain Research
We think Dr. Schiller says it best:
"What you teach from birth to three will be what matters most to me."
Trust us, it's the truth: setting the right foundation in the earliest years of your child's life will pave the way for a lifetime of engaged, proactive learning, so we focus on instilling our infant learners with a strong educational base.
2. Learning Domains
Our private preschool curriculum focuses on four critical developmental domains:
Social/Emotional
Physical
Part of what makes Frog Street so powerful is its emphasis on social and emotional development in addition to linguistic and cognitive development. This framework gives our expert early childhood educators and teachers the flexibility to create a learning environment that's nurturing and supportive, creating the best possible experience for all of our little learners to develop a strong, positive sense of self.
3. Conscious Discipline
Conscious Discipline helps our learners unite as a group, maintain calm during anxiety-inducing life experiences, and form deep, meaningful connections with their peers and caretakers, helping to create a sense of community and belonging in the classroom. Time and again, this has proven itself as a powerful framework for creating a safe and supportive learning environment.
4. Intentionality
Finally, our curriculum is firmly grounded in an intentional approach. We believe that no detail is too small to be done intentionally, which is why every method, exercise, and activity at The Blue Elephant is based on the same core principles and wealth of research behind our curriculum as a whole. Furthermore, we cater these principles specifically in every classroom, allowing us to perfectly match our learner's developmental stage – because at TBE, we understand that there's never a "one size fits all" approach to early childhood education.
Infant Curriculum
The first stage of our curriculum is designed to give our tiniest learners an ideal environment for learning, development, and growth. And when we say our learners our tiny, we mean it – many are just 6 weeks old!
We separate our infant curriculum into three groups based on age and developmental stage:
6 weeks – 6 months
7 – 11 months
12 – 17 months
Our infant curriculum is based on our adaptation of the Frog Street curriculum, and we supplement the cornerstones of that program with sign language, music, and story time (with a little assistance from our dear friend Lily the Puppet), helping to make learning fun for even our youngest community members. It's hard to do the experience justice with words, though, so if you'd really like a picture of what TBE's infant classrooms are like, we'd love to have you stop by for a tour!
Toddler Curriculum
In our toddler curriculum, we strive to build on the growth of our infant curriculum and help children form more advanced skills that will help them as they continue on their educational journey.
We separate our toddlers into three groups, based on their age and developmental stage:
18 months – 23 months
Young 2's
Older 2's
Our toddler education program is based on the principles of the Frog Street Toddler Curriculum, providing a rich and supportive private preschool learning environment. Through teacher-led instruction, child-directed play, and a whole lot of love, support, and fun, we help our toddlers develop their social and academic skills to prepare them for success as they move into our school readiness curriculum.
School Readiness Curriculum
Our School Readiness Rooms house some of our most accomplished early learners, and they provide supportive and nurturing environment as our students prepare to leave the private preschool environment and transition into Kindergarten.
We have three academically-focused School Readiness classrooms, again delineated by age and developmental stage:
Young 3's
Older 3's
Pre-K
Our School Readiness Curriculum focuses on providing the same nurturing environment of love and support, while also taking a more academic focus to prepare students for their coming transition to grade school. In addition to the principles of the Frog Street Curriculum, we also incorporate Handwriting Without Tears, another world-class curriculum for early childhood education and private preschools.
Developed by childhood educational specialists Emily Knapton and Jan Z, Handwriting Without Tears builds fine motor skills with handwriting exercises and hands-on play. Also called Get Set for School Readiness and Writing, this curriculum helps our students learn handwriting gradually, setting the stage for long-term success in school.
In all of our lesson plans, we strive to incorporate both self-directed learning and teacher-lead activities, maintaining a supportive environment that encourages a deep-rooted love of learning while continuously challenging our students to grow and develop. We strive for nothing but excellence at TBE, which is why we're proud to say that our curriculums meet and exceed the Texas Prekindergarten Guidelines, which includes our weekly Spanish, Music, and Computer instruction.
Schedule a Tour with Your Frisco, TX Private Preschool
At The Blue Elephant, your child's learning is our number one mission – and if you'd like to learn more about our process and the TBE family, we'd be thrilled to hear from you. Give us a call at 469.287.0332 with any questions, and if you'd like to come by for a tour of our Frisco, TX private preschool, just reach out to us at our contact page. We can't wait to hear from you, and we hope to help your child develop a lifelong passion for learning!