The Blue Elephant Curriculum
The Blue Elephant Curriculum
The Best Childhood Learning Center & Private Preschool In Frisco, TX
The Blue Elephant offers excellence in early education to children in and around Frisco, TX. We believe that every child is unique, and we offer preschool, summer camp, day care, and after school programs to suit every family's needs. Learning is a joyful process that happens both inside and outside the classroom, and we are committed to a holistic approach, based on the latest developments in childhood psychology, with a philosophy grounded in a child's incredible capacity to learn and grow in a nurturing environment.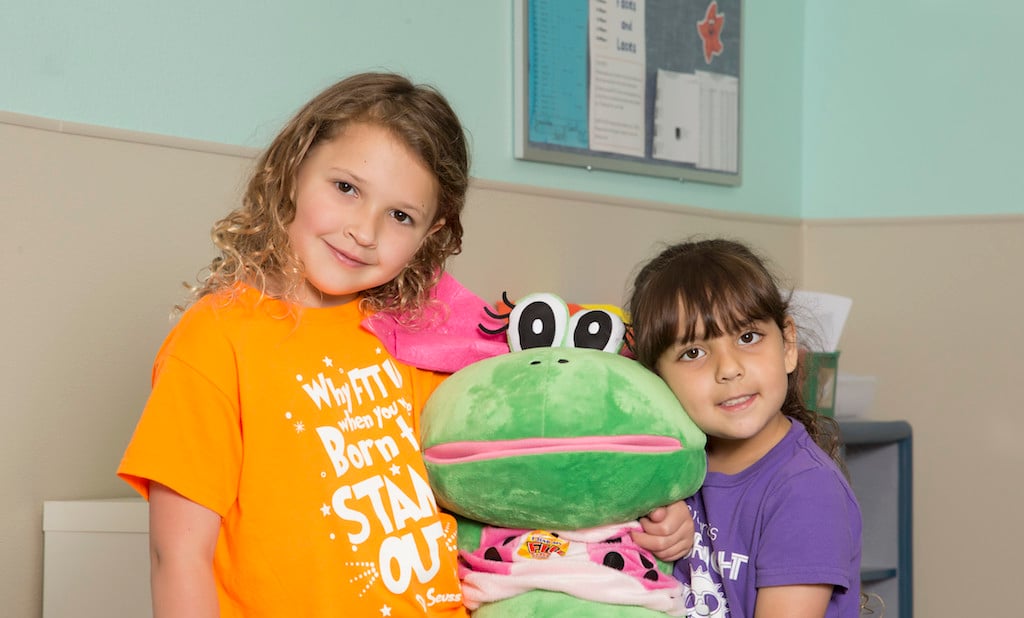 A Comprehensive Approach To Early Childhood Education
Our curriculum is progressive, tailored to the age of your child, and best for children 6 weeks to 12 years old. We have crafted a unique program that takes the best from Texas' two most effective early learning curriculums: Frog Street and Handwriting Without Tears.
We believe that every day, and every activity should offer a meaningful balance of instruction, creativity and fun, without time-wasting busywork. We believe that activities should be geared towards developing a love of learning, and so we create our lesson plans to be intentional and engaging, with a focus on your child's linguistic, cognitive, social, emotional, and physical development in a fun environment.
Our curriculum uses a variant of the Frog Street Curriculum, a world-renowned early childhood education course model developed by child learning expert Dr. Pam Schiller. Borrowing from Frog Street, we base our curriculum on four cornerstones:
Language
Language necessary for a child to develop the communication skills needed to be an active member of their community, and provides the tools a child needs to form bonds with his or her peers, teachers, and role models. Language is also the key to an academic future that lasts a lifetime, and language awareness from first developing speech to fluently writing is an education that begins at birth. Our teachers guide your child through the social and educational foundations of language, with age appropriate activities.
Cognitive
At The Blue Elephant, we engage all of your child's senses through intentional, imaginative, and thoughtful activities. Your child's problem solving skills are best developed by a range of diverse stimuli, and every child requires a unique process, with individual strengths and weaknesses. We replace repetitive, dull, one-size-fits-all busywork, with fun and inventive activities to kickstart and nurture your child's critical thinking skills.
Social/Emotional
Learning to get along can be tough, and is why social and emotional skill development is one of our cornerstones. Children learn to communicate best in a supportive and group oriented environment, that never criticizes or isolates the individual, and centers cooperation and growth through togetherness. Friendly and caring support is what every child will find at The Blue Elephant, and the children will learn to give these same gifts to each other at an early age.
Physical
Children learn through hands-on, fun and challenging activities. Participation and engagement are central to our curriculum, as is the development of your child's self awareness, and ability to get along with others in a physically interactive setting. Learning to set physical boundaries with others is very important to early development, as is healthy physical activity as a foundation for an active and engaged lifestyle.
Infants 6 weeks – 17 months
In their first stage of learning, we set the foundation for your little one's future development. As your child grows, we build on skills learned, and help your child advance his or her knowledge and curiosity. To prepare for what's to come, we incorporate stories, music, singing, tummy time, and much more!
18 months – 2 years old
Through teacher-led instruction, child-directed play, and a whole lot of love, support, and fun, we help our toddlers develop their social and academic skills to prepare them for success as they move into our school readiness curriculum.
School Readiness Curriculum
Finally, our School Readiness Rooms house our most advanced early learners. This stage of the curriculum continues to foster a supportive and nurturing environment while helping students prepare to leave private preschool and transition into kindergarten.
Our School Readiness Curriculum focuses on providing the same nurturing environment of love and support, but shifting the focus towards academics and helping our students prepare for the coming transition to grade school. In addition to the principles of the Frog Street Curriculum, we also incorporate Handwriting Without Tears. Developed by childhood educational specialists Emily Knapton and Jan Z, Handwriting Without Tears builds fine motor skills through handwriting exercises and hands-on play.
In all of our lesson plans, we strive to incorporate both self-directed learning and teacher-lead activities, maintaining a supportive environment that encourages a deep-rooted love of learning while continuously challenging our students to grow and develop. We strive for nothing but excellence at TBE, and we're proud to say our curriculums meet and exceed the Texas Prekindergarten Guidelines.
Join Our North Texas Early Child Learning Center
We've spent years developing our early childhood education curriculum here at The Blue Elephant, and we're proud to say it's helped countless kids in Frisco and the surrounding areas develop into well-rounded individuals and learners. Want to see the curriculum in action or have your child join the TBE family? We'd be thrilled to speak with you. Contact us today to learn more about our private Frisco preschool, schedule a tour of our learning center, or reach out through our contact page. We can't wait to help your child reach their full potential!